For years, Victoria has had one of the highest rents in Canada. Current statistics regarding the cost of living can be found here, but the average rent in April 2023 for a 1-bedroom is $1,769.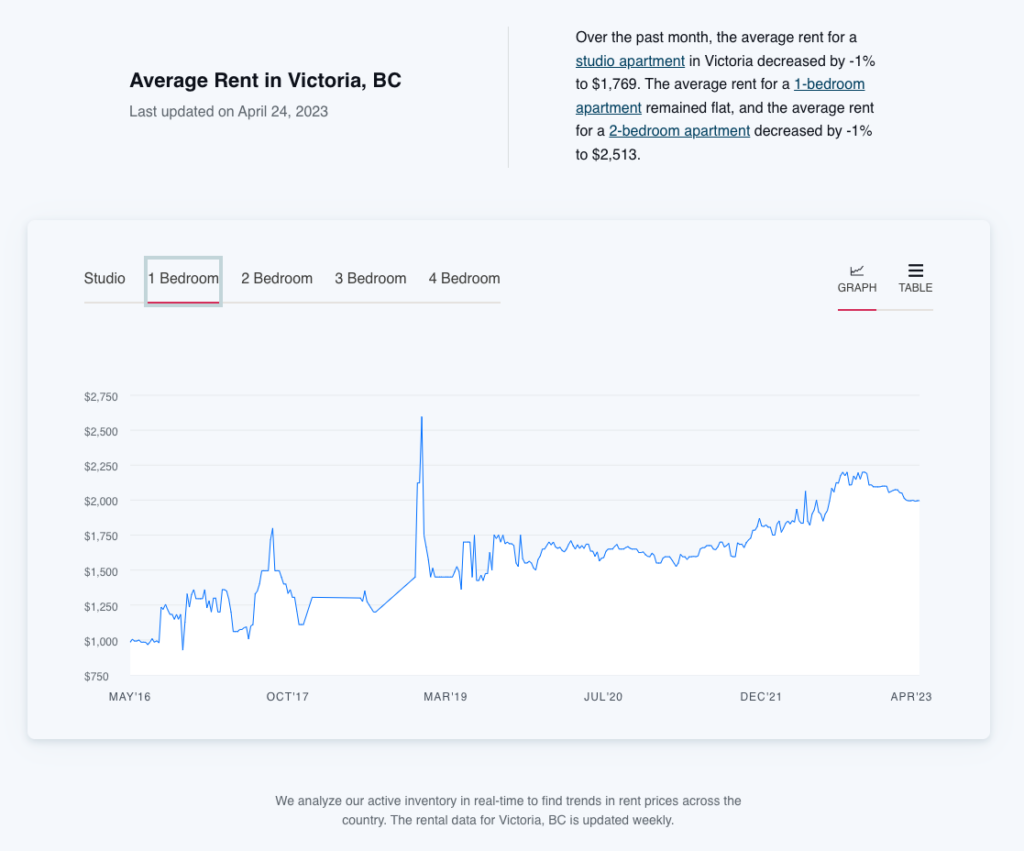 UVic has recently (2021-ish) developed a very nice page outlining a lot (maybe too much!) information about renting in Victoria. What follows are a few supplementary – and hopefully helpful – tips when looking for a place to live:
Reach out to the Current Grads
Many current grads may be graduating when you are arriving in Victoria and may be able to put in a word to their current landlord. Furthermore, some may be traveling for the semester and willing to sublet to you while you look for a new apartment. Normally an email is sent to grads sometime in the summer to connect new grads to those looking for a roommate, subletting, or vacating their current apartment. If you do not see this email, feel free to message the grad secretary or send an email to PAGSA
Search the Rental Boards!
Facebook Marketplace, Craigslist, UsedVictoria, and UVic are great places to start. Several other sites are listed on the UVic page, if you want more options.
BC Tenant Act
Familiarizing yourself with the Tenancy Act is definitely advisable. Unlike other provinces, BC requires only a single month's notice when moving out. This means that many apartments are posted only 3-4 weeks before occupancy. You are, as of July 2019, required to put down a deposit worth 1/2 month rent and typically you will sign a 1-year lease which becomes month-to-month upon completion.
Neighbourhoods
Where do you want to live? This is a very important question given that you'll be here for 2-∞ years. Typically grad students live along one of the following bus routes: 4, 7, 11, 13, 14, 15, 16/26, or along popular biking routes. Finding an apartment within walking distance is difficult, and with a year-round bus pass, this makes transit a particularly enticing option. Keep in mind that downtown is about 25 minutes by bus from UVic, and so most grad students live somewhere these two points and along a popular bus route.