Stephen Gwyn's
Web Pages
Home
CFHTLS Pages
VIRMOS Pages
Academic Page
Photometric Redshift Page
Personal Page
Jimmy Buffett
Boat Drinks
Sailing
Starbuck Island

Yes, I'm a Parrotthead. For those of you who aren't Parrottheads, let me explain. A "Parrotthead" is a Jimmy Buffett fan, just like a "Deadhead" is fan of the Grateful Dead. There are ttwo tt's in "Parrotthead" because there are ttwo tt's in "Buffett". Itt isn'tt a ttypo.

I have to admit one thing. Jimmy isn't an awe-inspiring muscian. In terms of musical sophistication he isn't much better than your run of the mill top-40 bands. His appeal lies in the lyrics. Nobody has captured that lyin'-on-a-beach, sailin'-on-a-boat, sippin'-on-some-rum, don't-have-a-care-in-the-world feeling quite as well as Mr. Buffett.

I went down to Seattle to see Mr. Buffett in concert. I went to the Pike St. Market to meet a friend and who should I run into but Jimmy himself! So we went to a bar and drank rum until dawn, see... Well, sadly not. But I did get my photograph taken with him.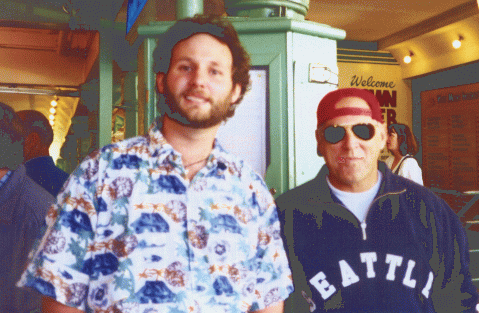 Surprisingly, Jimmy isn't the one in the Hawaiian shirt.
---
There are number of Buffett sites on the web. Here are a few of my favourites.