CFH12K data for the F22
Summary:
This page describes the data available for the VIRMOS F22 field. The quantity of the data that has been taken over the years is considerable. This page has recently been updated to include data recently installed on the Terapix disks from tapes.
There are several lists of the data available for the the F22 field. Yannick Mellier maintains lists of images on the Terapix web pages. Olivier Le Fevre has a list of images on the VIRMOS web pages. However the only complete list of images is found at the CADC (Canadian Astronomical Data Centre) webpages. Here are the relevant pages: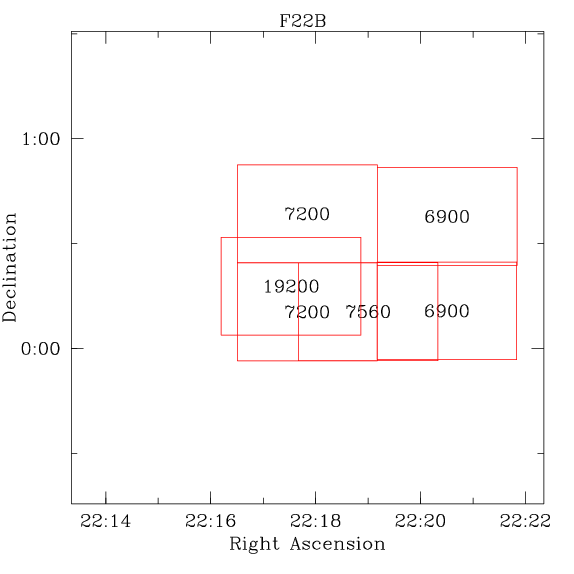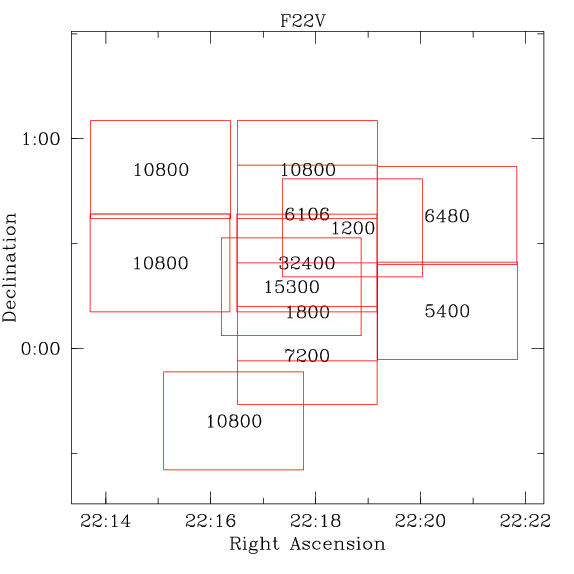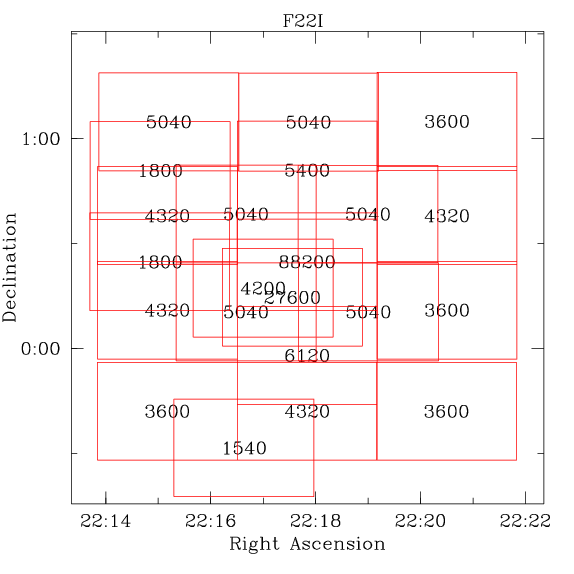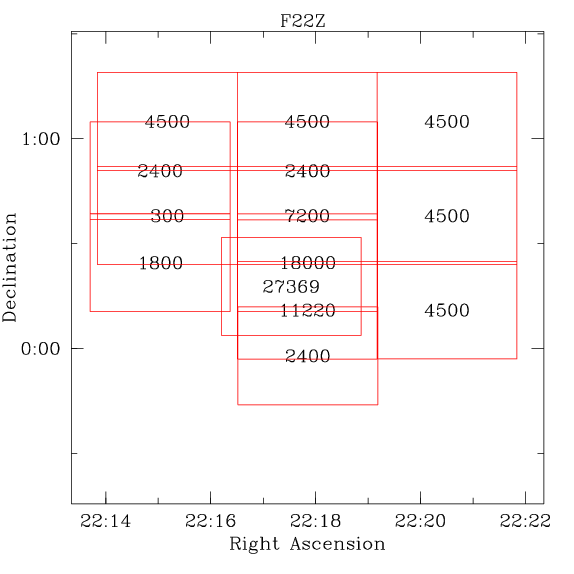 The following table list all the exposures of the 22 hour field with exposure times greater than 100 seconds. The CFHT exposure number, the RA and Dec, the filter band, the exposure time, the UTC date are taken from the CADC database. The RunID was taken from the CADC when possible, otherwise it was taken from Olivier LeFevre's webpage or derived from the CFHT observing shedule. There is a note "OLF" if the exposure is listed on the VIRMOS web page and "TPX" if it can found on the Terapix disks.

Expos#  RA            Dec        Band Exp.  Date        RunID     Notes 
485930  22 19 00.44   +00 10 27.0 I   720   09 May 1999 1999AF41   OLF    
485931  22 18 59.94   +00 10 24.5 I   720   09 May 1999 1999AF41   OLF    
485932  22 19 01.11   +00 10 21.9 I   720   09 May 1999 1999AF41   OLF    
485933  22 19 00.94   +00 10 29.5 I   720   09 May 1999 1999AF41   OLF    
485934  22 19 00.28   +00 10 34.5 I   720   09 May 1999 1999AF41   OLF    
486004  22 19 00.45   +00 10 27.0 I   720   10 May 1999 1999AF41   OLF    
486005  22 18 59.94   +00 10 24.5 I   720   10 May 1999 1999AF41   OLF    
486006  22 18 59.94   +00 38 24.5 I   720   10 May 1999 1999AF41   OLF    
486007  22 18 59.44   +00 38 22.1 I   720   10 May 1999 1999AF41   OLF    
486008  22 19 00.11   +00 38 17.1 I   720   10 May 1999 1999AF41   OLF    
486009  22 19 00.45   +00 38 26.9 I   720   10 May 1999 1999AF41   OLF    
486090  22 19 00.28   +00 38 34.6 I   720   11 May 1999 1999AF41   OLF    
486091  22 19 00.44   +00 38 26.9 I   720   11 May 1999 1999AF41   OLF    
486092  22 18 59.94   +00 38 24.6 I   720   11 May 1999 1999AF41   OLF    
486093  22 16 40.44   +00 10 27.0 I   720   11 May 1999 1999AF41   OLF    
486094  22 16 39.94   +00 10 24.4 I   720   11 May 1999 1999AF41   OLF    
486176  22 16 40.44   +00 38 27.0 I   720   12 May 1999 1999AF41          
486177  22 16 40.94   +00 38 29.5 I   720   12 May 1999 1999AF41          
486370  22 16 40.45   +00 10 26.9 I   720   13 May 1999 1999AF41   OLF TPX
486371  22 16 39.94   +00 10 24.4 I   720   13 May 1999 1999AF41   OLF TPX
486372  22 16 40.61   +00 10 19.4 I   720   13 May 1999 1999AF41   OLF TPX
486373  22 16 40.94   +00 10 29.6 I   720   13 May 1999 1999AF41   OLF TPX
486374  22 16 40.28   +00 10 34.7 I   720   13 May 1999 1999AF41   OLF TPX
486663  22 19 00.11   +00 10 32.0 B  1080   14 May 1999 1999AF41   OLF TPX
486664  22 19 00.45   +00 10 27.0 B  1080   14 May 1999 1999AF41   OLF TPX
486665  22 18 59.95   +00 10 24.5 B  1080   14 May 1999 1999AF41   OLF TPX
486830  22 19 00.44   +00 10 27.1 B  1080   15 May 1999 1999AF41   OLF TPX
486831  22 19 01.11   +00 10 21.8 B  1080   15 May 1999 1999AF41   OLF TPX
486832  22 19 01.78   +00 10 17.0 B  1080   15 May 1999 1999AF41   OLF TPX
486833  22 19 02.11   +00 10 27.1 B  1080   15 May 1999 1999AF41   OLF TPX
496109  22 17 00.04   +00 17 14.8 I   600   10 Jul 1999 1999BE15          
496110  22 16 59.64   +00 17 00.7 I   600   10 Jul 1999 1999BE15          
496111  22 17 00.57   +00 17 06.7 I   600   10 Jul 1999 1999BE15          
496254  22 16 59.71   +00 17 04.8 I   600   11 Jul 1999 1999BE15          
496255  22 17 00.44   +00 16 53.8 I   600   11 Jul 1999 1999BE15          
496492  22 17 00.04   +00 17 14.7 I   600   13 Jul 1999 1999BE15          
496493  22 17 00.77   +00 17 03.7 I   600   13 Jul 1999 1999BE15          
502782  22 17 50.25   +00 24 46.9 I   600   11 Sep 1999 1999BC94          
502783  22 17 49.92   +00 24 51.9 I   600   11 Sep 1999 1999BC94          
502784  22 17 50.25   +00 24 51.9 I   600   11 Sep 1999 1999BC94          
502785  22 17 50.59   +00 24 51.9 I   600   11 Sep 1999 1999BC94          
502786  22 17 50.59   +00 24 46.9 I   600   11 Sep 1999 1999BC94          
502787  22 17 49.92   +00 24 46.9 I   600   11 Sep 1999 1999BC94          
502788  22 17 49.92   +00 24 41.7 I   600   11 Sep 1999 1999BC94          
502789  22 17 50.26   +00 24 41.9 I   600   11 Sep 1999 1999BC94          
502791  22 17 50.59   +00 24 41.8 I   600   11 Sep 1999 1999BC94          
502792  22 17 50.42   +00 24 44.3 I   600   11 Sep 1999 1999BC94          
502793  22 17 50.08   +00 24 44.4 I   600   11 Sep 1999 1999BC94          
502794  22 17 50.08   +00 24 49.6 I   600   11 Sep 1999 1999BC94          
502795  22 17 50.41   +00 24 49.5 I   600   11 Sep 1999 1999BC94          
502796  22 17 50.43   +00 24 54.8 I   600   11 Sep 1999 1999BC94          
502797  22 17 50.75   +00 24 49.7 I   600   11 Sep 1999 1999BC94          
502798  22 17 50.75   +00 24 44.5 I   600   11 Sep 1999 1999BC94          
502799  22 17 50.42   +00 24 39.7 I   600   11 Sep 1999 1999BC94          
502800  22 17 50.09   +00 24 39.5 I   600   11 Sep 1999 1999BC94          
502801  22 17 50.25   +00 24 46.9 R   600   11 Sep 1999 1999BC94          
502802  22 17 50.59   +00 24 47.0 R   600   11 Sep 1999 1999BC94          
502803  22 17 49.92   +00 24 47.0 R   600   11 Sep 1999 1999BC94          
502875  22 17 50.05   +00 24 27.0 V  1200   12 Sep 1999 1999BC901         
502876  22 17 50.18   +00 24 29.0 V  1200   12 Sep 1999 1999BC901         
502877  22 17 50.30   +00 24 31.0 V  1200   12 Sep 1999 1999BC901         
502974  22 17 50.71   +00 24 31.8 V  1200   13 Sep 1999 1999BC901         
502975  22 17 50.85   +00 24 34.0 V  1200   13 Sep 1999 1999BC901         
502976  22 17 50.98   +00 24 36.0 V  1200   13 Sep 1999 1999BC901         
502977  22 17 50.44   +00 24 33.1 V  1200   13 Sep 1999 1999BC901         
502978  22 17 50.71   +00 24 27.1 V  1200   13 Sep 1999 1999BC901         
502979  22 17 50.03   +00 24 37.1 V  1200   13 Sep 1999 1999BC901         
502982  22 17 50.18   +00 24 34.1 V  1200   13 Sep 1999 1999BC901         
502983  22 17 50.51   +00 24 39.0 V  1200   13 Sep 1999 1999BC901         
502984  22 17 50.84   +00 24 44.0 V  1200   13 Sep 1999 1999BC901         
503035  22 17 50.23   +00 24 25.9 I  1200   14 Sep 1999 1999BC901         
503036  22 17 50.36   +00 24 27.8 I  1200   14 Sep 1999 1999BC901         
503037  22 17 50.49   +00 24 29.7 I  1200   14 Sep 1999 1999BC901         
503038  22 17 50.38   +00 51 00.6 I   600   14 Sep 1999 1999BC901         
503039  22 17 51.04   +00 51 10.7 I   600   14 Sep 1999 1999BC901         
503040  22 17 51.71   +00 51 20.7 I   600   14 Sep 1999 1999BC901         
503041  22 17 50.36   -00 02 01.0 I   600   14 Sep 1999 1999BC901         
503042  22 17 51.03   -00 01 51.1 I   600   14 Sep 1999 1999BC901         
503043  22 17 51.69   -00 01 40.9 I   600   14 Sep 1999 1999BC901         
503045  22 17 50.36   -00 02 01.0 V  1200   14 Sep 1999 1999BC901         
503046  22 17 51.02   -00 01 50.9 V  1200   14 Sep 1999 1999BC901         
503047  22 17 51.69   -00 01 41.0 V  1200   14 Sep 1999 1999BC901         
503049  22 17 50.61   +00 51 10.5 V  1200   14 Sep 1999 1999BC901         
503050  22 17 51.28   +00 51 20.5 V  1200   14 Sep 1999 1999BC901         
503051  22 17 51.94   +00 51 30.6 V  1200   14 Sep 1999 1999BC901         
503118  22 15 02.71   +00 51 09.9 V  1200   15 Sep 1999 1999BC901         
503119  22 15 03.38   +00 51 20.0 V  1200   15 Sep 1999 1999BC901         
503120  22 15 04.05   +00 51 30.0 V  1200   15 Sep 1999 1999BC901         
503121  22 15 02.05   +00 24 27.0 V  1200   15 Sep 1999 1999BC901         
503122  22 15 02.71   +00 24 37.1 V  1200   15 Sep 1999 1999BC901         
503123  22 15 03.38   +00 24 46.9 V  1200   15 Sep 1999 1999BC901         
503130  22 16 26.03   +00 37 45.0 V   120   15 Sep 1999 1999BC901         
503131  22 16 26.05   +00 11 15.0 V   120   15 Sep 1999 1999BC901         
503191  22 17 50.71   +00 24 32.1 Z   600   16 Sep 1999 1999BC901         
503192  22 17 51.04   +00 24 37.0 Z   600   16 Sep 1999 1999BC901         
503193  22 17 51.38   +00 24 41.9 Z   600   16 Sep 1999 1999BC901         
503194  22 17 51.71   +00 24 47.0 Z   600   16 Sep 1999 1999BC901         
503195  22 15 02.16   +00 50 50.1 Z   600   16 Sep 1999 1999BC901         
503196  22 15 02.49   +00 50 55.1 Z   600   16 Sep 1999 1999BC901         
503197  22 15 02.83   +00 51 00.1 Z   600   16 Sep 1999 1999BC901         
503198  22 17 50.79   +00 50 48.2 Z   600   16 Sep 1999 1999BC901         
503199  22 17 51.25   +00 50 55.2 Z   600   16 Sep 1999 1999BC901         
503200  22 17 51.72   +00 51 02.2 Z   600   16 Sep 1999 1999BC901         
503203  22 17 51.05   -00 02 07.8 Z   600   16 Sep 1999 1999BC901         
503204  22 17 51.52   -00 02 00.7 Z   600   16 Sep 1999 1999BC901         
503205  22 17 51.98   -00 01 53.8 Z   600   16 Sep 1999 1999BC901         
503217  22 16 25.95   +00 37 03.4 I   120   16 Sep 1999 1999BC901         
503218  22 16 25.86   +00 11 04.1 I   120   16 Sep 1999 1999BC901         
503219  22 16 25.85   +00 11 04.2 Z   120   16 Sep 1999 1999BC901         
503220  22 16 25.83   +00 37 31.5 Z   120   16 Sep 1999 1999BC901         
503299  22 15 01.72   +00 24 45.4 I   600   17 Sep 1999 1999BC901         
503300  22 15 02.19   +00 24 52.4 I   600   17 Sep 1999 1999BC901         
503301  22 15 02.65   +00 24 59.4 I   600   17 Sep 1999 1999BC901         
503302  22 15 02.14   +00 50 54.1 I   600   17 Sep 1999 1999BC901         
503303  22 15 02.61   +00 51 01.2 I   600   17 Sep 1999 1999BC901         
503304  22 15 03.08   +00 51 08.1 I   600   17 Sep 1999 1999BC901         
503313  22 15 02.30   +00 24 29.5 Z   600   17 Sep 1999 1999BC901         
503314  22 15 02.77   +00 24 36.6 Z   600   17 Sep 1999 1999BC901         
503315  22 15 03.23   +00 24 43.5 Z   600   17 Sep 1999 1999BC901         
503316  22 15 02.53   +00 51 12.6 Z   600   17 Sep 1999 1999BC901         
503317  22 17 51.11   -00 01 50.8 Z   600   17 Sep 1999 1999BC901         
503318  22 17 51.25   +00 51 12.0 Z   600   17 Sep 1999 1999BC901         
503320  22 17 50.90   +00 24 40.9 Z   600   17 Sep 1999 1999BC901         
503321  22 17 50.39   +00 24 33.0 Z   600   17 Sep 1999 1999BC901         
503687  22 16 38.05   -00 28 26.8 I   120   29 Sep 1999 1999BF125         
503688  22 16 38.04   -00 28 26.9 I   120   29 Sep 1999 1999BF125         
503689  22 16 38.04   -00 28 27.0 I   300   29 Sep 1999 1999BF125         
503690  22 16 38.04   -00 28 26.8 I   300   29 Sep 1999 1999BF125         
503695  22 16 38.03   -00 28 26.8 I   160   29 Sep 1999 1999BF125         
503696  22 16 38.04   -00 28 26.9 I   320   29 Sep 1999 1999BF125         
503703  22 16 38.05   -00 28 27.0 I   160   29 Sep 1999 1999BF125         
503704  22 16 38.05   -00 28 27.0 I   320   29 Sep 1999 1999BF125         
503705  22 16 38.05   -00 28 26.8 I   300   29 Sep 1999 1999BF125         
504703  22 17 50.29   +00 24 46.9 I   600   06 Oct 1999 1999BF158         
504704  22 17 50.29   +00 24 47.0 I   600   06 Oct 1999 1999BF158         
504705  22 17 49.79   +00 24 44.4 I   600   06 Oct 1999 1999BF158         
504706  22 17 50.46   +00 24 39.4 I   600   06 Oct 1999 1999BF158         
504707  22 17 50.79   +00 24 49.4 I   600   06 Oct 1999 1999BF158         
504708  22 17 50.13   +00 24 54.3 I   600   06 Oct 1999 1999BF158         
504709  22 17 49.96   +00 24 51.8 I   600   06 Oct 1999 1999BF158         
504710  22 17 50.62   +00 24 42.0 I   600   06 Oct 1999 1999BF158         
504711  22 17 50.53   +00 24 53.4 I   600   06 Oct 1999 1999BF158         
504712  22 17 50.30   +00 24 50.9 I   600   06 Oct 1999 1999BF158         
504713  22 17 49.79   +00 24 48.5 I   600   06 Oct 1999 1999BF158         
504714  22 17 50.45   +00 24 43.5 I   600   06 Oct 1999 1999BF158         
504715  22 17 50.79   +00 24 53.4 I   600   06 Oct 1999 1999BF158         
505231  22 17 50.26   +00 24 46.8 I   600   11 Oct 1999 1999BC902      TPX
505232  22 17 49.92   +00 24 52.0 I   600   11 Oct 1999 1999BC902      TPX
505233  22 17 50.26   +00 24 51.7 I   600   11 Oct 1999 1999BC902      TPX
505234  22 17 50.58   +00 24 51.9 I   600   11 Oct 1999 1999BC902      TPX
505235  22 17 50.59   +00 24 46.7 I   600   11 Oct 1999 1999BC902      TPX
505236  22 17 49.92   +00 24 46.9 I   600   11 Oct 1999 1999BC902      TPX
505237  22 17 49.92   +00 24 41.8 I   600   11 Oct 1999 1999BC902      TPX
505238  22 17 50.25   +00 24 41.8 I   600   11 Oct 1999 1999BC902      TPX
505239  22 17 50.59   +00 24 41.8 I   600   11 Oct 1999 1999BC902      TPX
505241  22 17 50.42   +00 24 44.3 I   600   11 Oct 1999 1999BC902         
505242  22 17 50.09   +00 24 44.3 I   600   11 Oct 1999 1999BC902         
505243  22 17 50.09   +00 24 49.5 I   600   11 Oct 1999 1999BC902         
505244  22 17 50.42   +00 24 49.4 I   600   11 Oct 1999 1999BC902         
505245  22 17 50.42   +00 24 54.3 I   600   11 Oct 1999 1999BC902         
505246  22 17 50.76   +00 24 49.4 I   600   11 Oct 1999 1999BC902         
505247  22 17 50.75   +00 24 44.4 I   600   11 Oct 1999 1999BC902         
505248  22 17 50.42   +00 24 39.4 I   600   11 Oct 1999 1999BC902         
505249  22 17 50.09   +00 24 39.4 I   600   11 Oct 1999 1999BC902         
505250  22 17 49.75   +00 24 44.5 I   600   11 Oct 1999 1999BC902         
505251  22 17 49.75   +00 24 49.4 I   600   11 Oct 1999 1999BC902         
505252  22 17 50.09   +00 24 54.3 I   600   11 Oct 1999 1999BC902         
505254  22 17 50.91   +00 24 36.8 R   600   11 Oct 1999 1999BC902         
505255  22 17 50.58   +00 24 41.7 R   600   11 Oct 1999 1999BC902         
505256  22 17 50.92   +00 24 41.8 R   600   11 Oct 1999 1999BC902         
505257  22 17 51.25   +00 24 41.7 R   600   11 Oct 1999 1999BC902         
508265  22 16 40.45   +00 38 42.0 I   720   09 Nov 1999 1999BF156  OLF TPX
508266  22 16 39.94   +00 38 39.5 I   720   09 Nov 1999 1999BF156  OLF TPX
508267  22 16 40.61   +00 38 34.5 I   720   09 Nov 1999 1999BF156  OLF TPX
508268  22 16 40.94   +00 38 44.5 I   720   09 Nov 1999 1999BF156  OLF TPX
508269  22 16 40.28   +00 38 49.6 I   720   09 Nov 1999 1999BF156  OLF TPX
508364  22 17 50.44   +00 38 32.0 B  1440   10 Nov 1999 1999BF156  OLF TPX
508365  22 17 51.18   +00 38 21.0 B  1440   10 Nov 1999 1999BF156  OLF TPX
508437  22 17 50.45   +00 38 27.0 B  1440   11 Nov 1999 1999BF156  OLF TPX
508438  22 17 50.05   +00 38 13.0 B  1440   11 Nov 1999 1999BF156  OLF TPX
508439  22 17 50.97   +00 38 19.0 B  1440   11 Nov 1999 1999BF156  OLF TPX
508496  22 17 50.44   +00 10 27.0 B  1440   12 Nov 1999 1999BF156  OLF TPX
508497  22 17 50.05   +00 10 12.9 B  1440   12 Nov 1999 1999BF156  OLF TPX
508498  22 17 50.98   +00 10 19.2 B  1440   12 Nov 1999 1999BF156  OLF TPX
508594  22 17 50.45   +00 38 27.0 V  1080   13 Nov 1999 1999BF156  OLF TPX
508595  22 17 49.94   +00 38 24.5 V  1080   13 Nov 1999 1999BF156  OLF TPX
508596  22 17 50.61   +00 38 19.5 V  1080   13 Nov 1999 1999BF156  OLF TPX
508597  22 17 50.94   +00 38 29.5 V  1080   13 Nov 1999 1999BF156  OLF TPX
508669  22 17 51.11   +00 38 17.9 V   706   14 Nov 1999 1999BF156      TPX
508670  22 17 51.10   +00 38 18.1 V  1080   14 Nov 1999 1999BF156  OLF TPX
508671  22 17 50.45   +00 10 27.0 V  1080   14 Nov 1999 1999BF156  OLF TPX
531182  22 17 50.40   +00 51 27.0 I   720   30 Apr 2000 2000AF52B  OLF TPX
531183  22 17 51.03   +00 51 16.1 I   720   30 Apr 2000 2000AF52B  OLF TPX
531288  22 17 50.40   +00 51 27.0 I   720   01 May 2000 2000AF52B  OLF TPX
531289  22 17 50.00   +00 51 13.0 I   720   01 May 2000 2000AF52B  OLF TPX
531290  22 17 50.93   +00 51 19.0 I   720   01 May 2000 2000AF52B  OLF TPX
531477  22 17 50.40   -00 03 26.9 I   720   02 May 2000 2000AF52B  OLF TPX
531478  22 17 49.90   -00 03 29.4 I   720   02 May 2000 2000AF52B  OLF TPX
531630  22 17 50.40   -00 03 26.9 I   720   03 May 2000 2000AF52B  OLF TPX
531631  22 17 49.89   -00 03 29.4 I   720   03 May 2000 2000AF52B  OLF TPX
531632  22 17 50.57   -00 03 34.4 I   720   03 May 2000 2000AF52B  OLF TPX
531633  22 17 50.90   -00 03 24.5 I   720   03 May 2000 2000AF52B  OLF TPX
536138  22 17 50.17   +00 24 29.0 V  1200   03 Jun 2000 2000AC14          
536139  22 17 50.83   +00 24 39.0 V  1200   03 Jun 2000 2000AC14          
536238  22 18 42.20   +00 34 29.0 V  1200   04 Jun 2000 2000AC14          
536239  22 17 50.50   +00 24 34.0 V  1200   04 Jun 2000 2000AC14          
536466  22 16 26.28   -00 20 44.4 V   120   06 Jun 2000 2000AC14          
536467  22 16 26.28   -00 20 44.5 V  1200   06 Jun 2000 2000AC14          
536468  22 16 25.95   -00 20 49.4 V  1200   06 Jun 2000 2000AC14          
536469  22 16 26.62   -00 20 39.4 V  1200   06 Jun 2000 2000AC14          
536596  22 19 43.14   +00 53 20.4 R   300   07 Jun 2000 2000AC14F30B        
536597  22 19 43.27   +00 53 21.9 R   300   07 Jun 2000 2000AC14F30B        
543485  22 17 50.40   +00 37 57.0 Z   720   22 Jul 2000 2000AE            
543486  22 17 49.90   +00 37 54.5 Z   720   22 Jul 2000 2000AE            
543487  22 17 50.56   +00 37 49.5 Z   720   22 Jul 2000 2000AE            
543488  22 17 50.90   +00 37 59.5 Z   720   22 Jul 2000 2000AE            
543489  22 17 50.23   +00 38 04.5 Z   720   22 Jul 2000 2000AE            
543642  22 17 50.40   +00 10 56.9 Z   300   23 Jul 2000 2000AD            
543643  22 20 30.40   +00 37 57.0 Z   300   23 Jul 2000 2000AD            
543644  22 20 30.40   +00 10 57.1 Z   300   23 Jul 2000 2000AD            
543645  22 20 30.40   +01 04 57.0 Z   300   23 Jul 2000 2000AD            
543646  22 17 50.40   +01 04 57.0 Z   300   23 Jul 2000 2000AD            
543647  22 15 10.40   +01 04 57.0 Z   300   23 Jul 2000 2000AD            
543648  22 15 10.40   +00 37 57.0 Z   300   23 Jul 2000 2000AD            
543656  22 17 50.40   +00 37 56.9 Z   720   23 Jul 2000 2000AD            
543657  22 17 49.90   +00 37 54.5 Z   720   23 Jul 2000 2000AD            
543658  22 17 50.56   +00 37 49.4 Z   720   23 Jul 2000 2000AD            
543659  22 17 50.90   +00 37 59.5 Z   720   23 Jul 2000 2000AD            
543660  22 17 50.24   +00 38 04.6 Z   720   23 Jul 2000 2000AD            
545182  22 17 50.21   +00 23 26.8 I   600   07 Aug 2000 2000BC21A         
545184  22 17 49.87   +00 23 31.9 I   600   07 Aug 2000 2000BC21A         
545185  22 17 50.21   +00 23 31.8 I   600   07 Aug 2000 2000BC21A         
545186  22 17 50.54   +00 23 31.9 I   600   07 Aug 2000 2000BC21A         
545190  22 17 50.48   +00 23 26.9 I   600   07 Aug 2000 2000BC21A         
545191  22 17 49.81   +00 23 26.9 I   600   07 Aug 2000 2000BC21A         
545193  22 17 49.81   +00 23 21.9 I   600   07 Aug 2000 2000BC21A         
545194  22 17 50.14   +00 23 21.8 I   600   07 Aug 2000 2000BC21A         
545195  22 17 50.47   +00 23 21.9 I   600   07 Aug 2000 2000BC21A         
545200  22 17 50.31   +00 23 24.3 I   600   07 Aug 2000 2000BC21A         
545201  22 17 49.98   +00 23 24.4 I   600   07 Aug 2000 2000BC21A         
545203  22 17 49.98   +00 23 29.4 I   600   07 Aug 2000 2000BC21A         
545204  22 17 50.31   +00 23 29.4 I   600   07 Aug 2000 2000BC21A         
545205  22 17 50.31   +00 23 34.3 I   600   07 Aug 2000 2000BC21A         
545206  22 17 50.64   +00 23 29.4 I   600   07 Aug 2000 2000BC21A         
545207  22 17 50.64   +00 23 24.4 I   600   07 Aug 2000 2000BC21A         
545208  22 17 50.31   +00 23 19.4 I   600   07 Aug 2000 2000BC21A         
545210  22 17 49.98   +00 23 19.4 I   600   07 Aug 2000 2000BC21A         
549993  22 20 30.39   +01 04 57.0 Z   600   18 Sep 2000 2000BF28          
549994  22 20 29.89   +01 04 54.5 Z   600   18 Sep 2000 2000BF28          
549995  22 20 30.55   +01 04 49.5 Z   600   18 Sep 2000 2000BF28          
549996  22 20 30.89   +01 04 59.4 Z   600   18 Sep 2000 2000BF28          
549997  22 20 30.22   +01 05 04.5 Z   600   18 Sep 2000 2000BF28          
549998  22 20 30.05   +01 05 02.0 Z   600   18 Sep 2000 2000BF28          
549999  22 20 30.72   +01 04 52.0 Z   600   18 Sep 2000 2000BF28          
550060  22 17 48.19   +00 10 44.0 Z   600   19 Sep 2000 2000BF28          
550061  22 17 47.69   +00 10 41.5 Z   600   19 Sep 2000 2000BF28          
550062  22 17 48.35   +00 10 36.5 Z   600   19 Sep 2000 2000BF28          
550063  22 17 48.69   +00 10 46.4 Z   600   19 Sep 2000 2000BF28          
550064  22 17 48.02   +00 10 51.5 Z   600   19 Sep 2000 2000BF28          
550065  22 17 47.85   +00 10 48.9 Z   600   19 Sep 2000 2000BF28          
550066  22 17 48.52   +00 10 38.9 Z   600   19 Sep 2000 2000BF28          
550068  22 20 27.86   +00 37 48.9 Z   600   19 Sep 2000 2000BF28          
550069  22 20 27.35   +00 37 46.4 Z   600   19 Sep 2000 2000BF28          
550070  22 20 28.02   +00 37 41.4 Z   600   19 Sep 2000 2000BF28          
550071  22 20 28.35   +00 37 51.4 Z   600   19 Sep 2000 2000BF28          
550072  22 20 27.69   +00 37 56.4 Z   600   19 Sep 2000 2000BF28          
550073  22 20 27.52   +00 37 53.9 Z   600   19 Sep 2000 2000BF28          
550074  22 20 28.19   +00 37 43.9 Z   600   19 Sep 2000 2000BF28          
550077  22 20 30.40   +00 10 57.0 Z   600   19 Sep 2000 2000BF28          
550078  22 20 29.90   +00 10 54.5 Z   600   19 Sep 2000 2000BF28          
550079  22 20 30.56   +00 10 49.5 Z   600   19 Sep 2000 2000BF28          
550080  22 20 30.90   +00 10 59.5 Z   600   19 Sep 2000 2000BF28          
550081  22 20 30.23   +00 11 04.5 Z   600   19 Sep 2000 2000BF28          
550082  22 20 30.07   +00 11 02.0 Z   600   19 Sep 2000 2000BF28          
550083  22 20 30.73   +00 10 52.0 Z   600   19 Sep 2000 2000BF28          
550144  22 17 50.40   +01 04 57.0 Z   600   20 Sep 2000 2000BF28          
550145  22 17 49.90   +01 04 54.5 Z   600   20 Sep 2000 2000BF28          
550146  22 17 50.57   +01 04 49.5 Z   600   20 Sep 2000 2000BF28          
550147  22 17 50.90   +01 04 59.5 Z   600   20 Sep 2000 2000BF28          
550148  22 17 50.23   +01 05 04.5 Z   600   20 Sep 2000 2000BF28          
550149  22 17 50.07   +01 05 02.0 Z   600   20 Sep 2000 2000BF28          
550150  22 17 50.73   +01 04 52.1 Z   600   20 Sep 2000 2000BF28          
550153  22 15 10.40   +01 04 57.0 Z   600   20 Sep 2000 2000BF28          
550154  22 15 09.90   +01 04 54.5 Z   600   20 Sep 2000 2000BF28          
550155  22 15 10.57   +01 04 49.5 Z   600   20 Sep 2000 2000BF28          
550156  22 15 10.90   +01 04 59.5 Z   600   20 Sep 2000 2000BF28          
550157  22 15 10.24   +01 05 04.5 Z   600   20 Sep 2000 2000BF28          
550158  22 15 10.07   +01 05 02.0 Z   600   20 Sep 2000 2000BF28          
550159  22 15 10.73   +01 04 52.0 Z   600   20 Sep 2000 2000BF28          
550229  22 17 50.21   +00 24 46.9 I   600   21 Sep 2000 2000BF30A  OLF    
550230  22 17 49.71   +00 24 44.4 I   600   21 Sep 2000 2000BF30A  OLF    
550231  22 17 50.37   +00 24 39.3 I   600   21 Sep 2000 2000BF30A  OLF    
550232  22 17 50.71   +00 24 49.4 I   600   21 Sep 2000 2000BF30A  OLF    
550235  22 17 50.21   +00 24 44.9 I   600   21 Sep 2000 2000BF30A  OLF    
550236  22 17 49.71   +00 24 42.4 I   600   21 Sep 2000 2000BF30A  OLF    
550237  22 17 50.38   +00 24 37.4 I   600   21 Sep 2000 2000BF30A  OLF    
550238  22 17 50.71   +00 24 47.4 I   600   21 Sep 2000 2000BF30A  OLF    
550239  22 17 50.04   +00 24 52.3 I   600   21 Sep 2000 2000BF30A  OLF    
550242  22 17 49.88   +00 24 49.9 I   600   21 Sep 2000 2000BF30A  OLF    
550243  22 17 50.54   +00 24 44.8 I   600   21 Sep 2000 2000BF30A  OLF    
550244  22 17 50.88   +00 24 54.9 I   600   21 Sep 2000 2000BF30A  OLF    
550245  22 17 50.21   +00 24 59.9 I   600   21 Sep 2000 2000BF30A  OLF    
550248  22 17 49.88   +00 24 44.4 I   600   21 Sep 2000 2000BF30A  OLF    
550249  22 17 50.54   +00 24 39.4 I   600   21 Sep 2000 2000BF30A  OLF    
550250  22 17 50.88   +00 24 49.4 I   600   21 Sep 2000 2000BF30A  OLF    
550251  22 17 50.21   +00 24 54.4 I   600   21 Sep 2000 2000BF30A  OLF    
550252  22 17 49.54   +00 24 46.9 I   600   21 Sep 2000 2000BF30A  OLF    
550253  22 17 50.21   +00 24 41.9 I   600   21 Sep 2000 2000BF30A  OLF    
550254  22 17 50.54   +00 24 51.9 I   600   21 Sep 2000 2000BF30A  OLF    
550358  22 17 49.27   +00 24 42.4 I   600   22 Sep 2000 2000BF30A  OLF    
550359  22 17 48.87   +00 24 28.4 I   600   22 Sep 2000 2000BF30A  OLF    
550360  22 17 49.81   +00 24 34.3 I   600   22 Sep 2000 2000BF30A  OLF    
550361  22 20 30.40   +00 37 57.0 I   720   22 Sep 2000 2000BF30A  OLF TPX
550362  22 20 29.90   +00 37 54.5 I   720   22 Sep 2000 2000BF30A  OLF TPX
550363  22 20 30.57   +00 37 49.5 I   720   22 Sep 2000 2000BF30A  OLF TPX
550364  22 20 30.90   +00 37 59.5 I   720   22 Sep 2000 2000BF30A  OLF TPX
550366  22 20 30.23   +00 38 04.4 I   720   22 Sep 2000 2000BF30A  OLF TPX
550367  22 20 30.40   +00 10 57.0 I   720   22 Sep 2000 2000BF30A  OLF TPX
550368  22 20 29.90   +00 10 54.5 I   720   22 Sep 2000 2000BF30A  OLF TPX
550369  22 20 30.56   +00 10 49.4 I   720   22 Sep 2000 2000BF30A  OLF TPX
550373  22 20 30.90   +00 10 59.5 I   720   22 Sep 2000 2000BF30A  OLF TPX
550374  22 20 30.24   +00 11 04.5 I   720   22 Sep 2000 2000BF30A  OLF TPX
550375  22 20 30.40   +01 04 57.0 I   720   22 Sep 2000 2000BF30A  OLF TPX
550376  22 20 29.90   +01 04 54.5 I   720   22 Sep 2000 2000BF30A  OLF TPX
550377  22 20 30.57   +01 04 49.5 I   720   22 Sep 2000 2000BF30A  OLF TPX
550378  22 20 30.90   +01 04 59.5 I   720   22 Sep 2000 2000BF30A  OLF TPX
550379  22 20 30.24   +01 05 04.5 I   720   22 Sep 2000 2000BF30A  OLF TPX
551371  22 17 51.92   +01 04 45.0 I   720   03 Oct 2000 2000BF9    OLF TPX
551372  22 17 51.43   +01 04 42.6 I   720   03 Oct 2000 2000BF9    OLF TPX
551373  22 17 52.09   +01 04 37.6 I   720   03 Oct 2000 2000BF9    OLF TPX
551374  22 17 52.42   +01 04 47.6 I   720   03 Oct 2000 2000BF9    OLF TPX
551375  22 17 51.76   +01 04 52.6 I   720   03 Oct 2000 2000BF9    OLF TPX
551376  22 17 51.59   +01 04 50.1 I   720   03 Oct 2000 2000BF9    OLF TPX
551377  22 17 52.25   +01 04 40.1 I   720   03 Oct 2000 2000BF9    OLF TPX
551379  22 15 12.10   +01 04 48.4 I   720   03 Oct 2000 2000BF9    OLF TPX
551380  22 15 11.60   +01 04 45.8 I   720   03 Oct 2000 2000BF9    OLF TPX
551381  22 15 12.27   +01 04 40.9 I   720   03 Oct 2000 2000BF9    OLF TPX
551382  22 15 12.60   +01 04 50.8 I   720   03 Oct 2000 2000BF9    OLF TPX
551383  22 15 11.94   +01 04 55.8 I   720   03 Oct 2000 2000BF9    OLF TPX
551384  22 15 11.77   +01 04 53.3 I   720   03 Oct 2000 2000BF9    OLF TPX
551385  22 15 12.44   +01 04 43.4 I   720   03 Oct 2000 2000BF9    OLF TPX
551499  22 17 51.85   +00 24 45.3 Z   600   04 Oct 2000 2000BC34          
551500  22 17 50.98   +00 25 07.4 Z   600   04 Oct 2000 2000BC34          
551501  22 17 49.32   +00 25 07.3 Z   600   04 Oct 2000 2000BC34          
551502  22 17 48.45   +00 24 45.4 Z   600   04 Oct 2000 2000BC34          
551503  22 17 49.32   +00 24 23.4 Z   600   04 Oct 2000 2000BC34          
551504  22 17 50.98   +00 24 23.3 Z   600   04 Oct 2000 2000BC34          
551505  22 17 51.78   +00 24 30.4 Z   600   04 Oct 2000 2000BC34          
551506  22 17 50.91   +00 24 52.4 Z   600   04 Oct 2000 2000BC34          
551507  22 17 49.25   +00 24 52.4 Z   600   04 Oct 2000 2000BC34          
551508  22 17 48.38   +00 24 30.4 Z   600   04 Oct 2000 2000BC34          
551509  22 17 49.25   +00 24 08.4 Z   600   04 Oct 2000 2000BC34          
551510  22 17 50.91   +00 24 08.4 Z   600   04 Oct 2000 2000BC34          
551515  22 17 51.30   +00 24 18.9 Z   600   04 Oct 2000 2000BC34          
551516  22 17 50.44   +00 24 40.9 Z   600   04 Oct 2000 2000BC34          
551517  22 17 48.77   +00 24 40.8 Z   600   04 Oct 2000 2000BC34          
551518  22 17 47.90   +00 24 18.8 Z   600   04 Oct 2000 2000BC34          
551519  22 17 48.77   +00 23 56.8 Z   600   04 Oct 2000 2000BC34          
551520  22 17 50.43   +00 23 56.9 Z   600   04 Oct 2000 2000BC34          
551521  22 17 51.91   +00 24 28.8 Z   600   04 Oct 2000 2000BC34          
551522  22 17 51.04   +00 24 50.8 Z   600   04 Oct 2000 2000BC34          
551523  22 17 49.37   +00 24 50.8 Z   600   04 Oct 2000 2000BC34          
551524  22 17 48.51   +00 24 28.9 Z   600   04 Oct 2000 2000BC34          
551525  22 17 49.37   +00 24 06.9 Z   600   04 Oct 2000 2000BC34          
551526  22 17 51.04   +00 24 06.8 Z   600   04 Oct 2000 2000BC34          
551592  22 17 49.82   +00 24 31.3 I   600   05 Oct 2000 2000BC21C         
551593  22 17 49.48   +00 24 36.3 I   600   05 Oct 2000 2000BC21C         
551594  22 17 49.81   +00 24 36.2 I   600   05 Oct 2000 2000BC21C         
551595  22 17 50.14   +00 24 36.3 I   600   05 Oct 2000 2000BC21C         
551596  22 17 50.15   +00 24 31.3 I   600   05 Oct 2000 2000BC21C         
551597  22 17 49.48   +00 24 31.3 I   600   05 Oct 2000 2000BC21C         
551598  22 17 49.48   +00 24 26.4 I   600   05 Oct 2000 2000BC21C         
551599  22 17 49.81   +00 24 26.2 I   600   05 Oct 2000 2000BC21C         
551600  22 17 50.14   +00 24 26.3 I   600   05 Oct 2000 2000BC21C         
551601  22 17 49.98   +00 24 28.8 I   600   05 Oct 2000 2000BC21C         
551603  22 17 49.64   +00 24 28.8 I   600   05 Oct 2000 2000BC21C         
551604  22 17 49.64   +00 24 33.8 I   600   05 Oct 2000 2000BC21C         
551605  22 17 49.98   +00 24 33.8 I   600   05 Oct 2000 2000BC21C         
551606  22 17 49.98   +00 24 38.8 I   600   05 Oct 2000 2000BC21C         
551607  22 17 50.31   +00 24 33.8 I   600   05 Oct 2000 2000BC21C         
551608  22 17 50.31   +00 24 28.8 I   600   05 Oct 2000 2000BC21C         
551609  22 17 49.98   +00 24 23.8 I   600   05 Oct 2000 2000BC21C         
551611  22 17 49.65   +00 24 23.7 I   600   05 Oct 2000 2000BC21C         
551612  22 17 49.31   +00 24 28.8 I   600   05 Oct 2000 2000BC21C         
551613  22 17 49.31   +00 24 33.8 I   600   05 Oct 2000 2000BC21C         
551614  22 17 49.64   +00 24 38.8 I   600   05 Oct 2000 2000BC21C         
551615  22 17 49.81   +00 24 31.3 I   600   05 Oct 2000 2000BC21C         
551616  22 17 50.48   +00 24 26.3 I   600   05 Oct 2000 2000BC21C         
551617  22 17 50.81   +00 24 36.3 I   600   05 Oct 2000 2000BC21C         
552568  22 17 50.21   +00 24 46.9 I   600   20 Oct 2000 2000BC21D      TPX
552569  22 17 49.87   +00 24 51.9 I   600   20 Oct 2000 2000BC21D      TPX
552570  22 17 50.21   +00 24 51.9 I   600   20 Oct 2000 2000BC21D      TPX
552571  22 17 50.54   +00 24 51.8 I   600   20 Oct 2000 2000BC21D      TPX
552572  22 17 50.55   +00 24 46.8 I   600   20 Oct 2000 2000BC21D      TPX
552573  22 17 49.87   +00 24 47.9 I   600   20 Oct 2000 2000BC21D      TPX
552574  22 17 49.88   +00 24 42.8 I   600   20 Oct 2000 2000BC21D      TPX
552576  22 17 50.20   +00 24 42.9 I   600   20 Oct 2000 2000BC21D      TPX
552577  22 17 50.54   +00 24 42.9 I   600   20 Oct 2000 2000BC21D      TPX
552578  22 17 50.37   +00 24 45.3 I   600   20 Oct 2000 2000BC21D      TPX
552579  22 17 50.04   +00 24 45.4 I   600   20 Oct 2000 2000BC21D      TPX
552631  22 17 50.20   +00 24 46.9 I   600   21 Oct 2000 2000BF30B         
552632  22 17 50.21   +00 24 46.9 I   600   21 Oct 2000 2000BF30B      TPX
552633  22 17 49.71   +00 24 44.5 I   600   21 Oct 2000 2000BF30B      TPX
552634  22 17 50.37   +00 24 39.5 I   600   21 Oct 2000 2000BF30B      TPX
552635  22 17 50.71   +00 24 49.3 I   600   21 Oct 2000 2000BF30B      TPX
552637  22 17 50.70   +00 24 49.3 I   600   21 Oct 2000 2000BF30B      TPX
552638  22 17 50.21   +00 24 46.9 I   600   21 Oct 2000 2000BF30B      TPX
552639  22 17 50.87   +00 24 41.8 I   600   21 Oct 2000 2000BF30B      TPX
552640  22 17 51.21   +00 24 51.7 I   600   21 Oct 2000 2000BF30B      TPX
552641  22 17 50.54   +00 24 56.9 I   600   21 Oct 2000 2000BF30B      TPX
552642  22 17 50.38   +00 24 54.3 I   600   21 Oct 2000 2000BF30B      TPX
552643  22 17 51.04   +00 24 44.4 I   600   21 Oct 2000 2000BF30B      TPX
552644  22 17 50.94   +00 24 55.9 I   600   21 Oct 2000 2000BF30B      TPX
552797  22 15 10.40   +00 37 57.1 I   720   23 Oct 2000 2000BF11   OLF TPX
552798  22 15 09.90   +00 37 54.5 I   720   23 Oct 2000 2000BF11   OLF TPX
552799  22 15 10.56   +00 37 49.5 I   720   23 Oct 2000 2000BF11   OLF TPX
552800  22 15 10.90   +00 37 59.5 I   720   23 Oct 2000 2000BF11   OLF TPX
552801  22 15 10.23   +00 38 04.5 I   720   23 Oct 2000 2000BF11   OLF TPX
552802  22 15 10.39   +00 10 57.0 I   720   23 Oct 2000 2000BF11   OLF TPX
552803  22 15 09.90   +00 10 54.6 I   720   23 Oct 2000 2000BF11   OLF TPX
552804  22 15 10.57   +00 10 49.5 I   720   23 Oct 2000 2000BF11   OLF TPX
552805  22 15 10.90   +00 10 59.5 I   720   23 Oct 2000 2000BF11   OLF TPX
552806  22 15 10.24   +00 11 04.5 I   720   23 Oct 2000 2000BF11   OLF TPX
552850  22 15 10.40   -00 17 57.0 I   720   24 Oct 2000 2000BF11   OLF TPX
552851  22 15 11.00   -00 18 01.9 I   720   24 Oct 2000 2000BF11   OLF TPX
552852  22 15 11.33   -00 17 51.9 I   720   24 Oct 2000 2000BF11   OLF TPX
552853  22 15 10.66   -00 17 46.9 I   720   24 Oct 2000 2000BF11   OLF TPX
552854  22 15 09.67   -00 17 52.0 I   720   24 Oct 2000 2000BF11   OLF TPX
552855  22 15 10.40   +00 37 57.0 I   720   24 Oct 2000 2000BF11   OLF TPX
552856  22 15 10.40   +00 10 57.0 I   720   24 Oct 2000 2000BF11   OLF TPX
552858  22 17 50.40   -00 17 56.9 I   720   24 Oct 2000 2000BF11   OLF TPX
552859  22 17 49.90   -00 17 59.5 I   720   24 Oct 2000 2000BF11   OLF TPX
552860  22 17 50.57   -00 18 04.4 I   720   24 Oct 2000 2000BF11   OLF TPX
552953  22 17 50.90   -00 17 54.4 I   720   25 Oct 2000 2000BF11   OLF TPX
552954  22 17 50.23   -00 17 49.4 I   720   25 Oct 2000 2000BF11   OLF TPX
552955  22 20 29.77   -00 17 57.9 I   720   25 Oct 2000 2000BF11   OLF TPX
552956  22 20 29.27   -00 18 00.4 I   720   25 Oct 2000 2000BF11   OLF TPX
552957  22 20 29.93   -00 18 05.5 I   720   25 Oct 2000 2000BF11   OLF TPX
552958  22 20 30.27   -00 17 55.5 I   720   25 Oct 2000 2000BF11   OLF TPX
552959  22 20 29.60   -00 17 50.3 I   720   25 Oct 2000 2000BF11   OLF TPX
552960  22 17 50.40   +00 37 57.0 R   720   25 Oct 2000 2000BF11       TPX
552962  22 17 50.40   +00 37 57.0 R   720   25 Oct 2000 2000BF11   OLF TPX
552963  22 17 49.90   +00 37 54.5 R   720   25 Oct 2000 2000BF11   OLF TPX
552964  22 17 50.57   +00 37 49.5 R   720   25 Oct 2000 2000BF11   OLF TPX
553047  22 17 50.90   +00 37 59.5 R   720   26 Oct 2000 2000BF11       TPX
553049  22 17 50.90   +00 37 59.5 R   720   26 Oct 2000 2000BF11   OLF TPX
553050  22 17 50.23   +00 38 04.5 R   720   26 Oct 2000 2000BF11       TPX
553051  22 17 50.23   +00 38 04.5 R   720   26 Oct 2000 2000BF11       TPX
553052  22 17 50.23   +00 38 04.5 R   720   26 Oct 2000 2000BF11       TPX
553053  22 17 50.23   +00 38 04.5 R   720   26 Oct 2000 2000BF11       TPX
553054  22 17 50.23   +00 38 04.5 R   720   26 Oct 2000 2000BF11       TPX
553055  22 17 50.23   +00 38 04.5 R  1800   26 Oct 2000 2000BF11       TPX
557282  22 20 30.40   +00 37 56.9 I   720   26 Nov 2000 2000BF11   OLF TPX
557283  22 17 50.40   -00 17 56.9 I   720   26 Nov 2000 2000BF11   OLF TPX
557365  22 17 50.40   +00 10 57.0 B  1440   27 Nov 2000 2000BF11   OLF TPX
557366  22 17 51.13   +00 10 46.0 B  1440   27 Nov 2000 2000BF11   OLF TPX
557436  22 20 30.40   +00 37 57.0 V  1080   28 Nov 2000 2000BF11   OLF TPX
587773  22 17 50.49   +00 10 02.3 R   720   30 May 2001 2001AF51   OLF TPX
591642  22 17 34.46   +00 14 30.4 Z   840   15 Jun 2001 2001AQ05          
591643  22 17 33.96   +00 14 27.8 Z   840   15 Jun 2001 2001AQ05          
591644  22 17 34.63   +00 14 22.9 Z   840   15 Jun 2001 2001AQ05          
591645  22 17 34.96   +00 14 32.9 Z   840   15 Jun 2001 2001AQ05          
591646  22 17 34.29   +00 14 38.0 Z   840   15 Jun 2001 2001AQ05          
591647  22 17 34.13   +00 14 35.3 Z   840   15 Jun 2001 2001AQ05          
591648  22 17 34.80   +00 14 25.4 Z   840   15 Jun 2001 2001AQ05          
591649  22 17 34.71   +00 14 36.7 Z   840   15 Jun 2001 2001AQ05          
591827  22 20 30.87   +00 37 37.6 V  1080   16 Jun 2001 2001AF51   OLF TPX
591828  22 20 30.37   +00 37 35.1 V  1080   16 Jun 2001 2001AF51   OLF TPX
591829  22 20 31.04   +00 37 30.2 V  1080   16 Jun 2001 2001AF51   OLF TPX
591830  22 20 31.37   +00 37 40.2 V  1080   16 Jun 2001 2001AF51   OLF TPX
591831  22 20 30.70   +00 37 45.2 V  1080   16 Jun 2001 2001AF51   OLF TPX
591942  22 20 30.80   +00 10 44.9 V  1080   17 Jun 2001 2001AF51   OLF TPX
591943  22 20 30.29   +00 10 42.5 V  1080   17 Jun 2001 2001AF51   OLF TPX
591944  22 20 30.96   +00 10 37.5 V  1080   17 Jun 2001 2001AF51   OLF TPX
591945  22 20 31.30   +00 10 47.6 V  1080   17 Jun 2001 2001AF51   OLF TPX
591946  22 20 30.62   +00 10 52.5 V  1080   17 Jun 2001 2001AQ05       TPX
592159  22 20 30.52   +00 37 44.8 B  1380   19 Jun 2001 2001AF51   OLF TPX
592160  22 20 30.03   +00 37 42.3 B  1380   19 Jun 2001 2001AF51   OLF TPX
592161  22 20 30.69   +00 37 37.4 B  1380   19 Jun 2001 2001AF51   OLF TPX
592162  22 20 31.03   +00 37 47.4 B  1380   19 Jun 2001 2001AF51   OLF TPX
592163  22 20 30.36   +00 37 52.3 B  1380   19 Jun 2001 2001AF51   OLF TPX
592464  22 20 30.19   +00 10 44.9 B  1380   21 Jun 2001 2001AF51   OLF TPX
592465  22 20 29.69   +00 10 42.4 B  1380   21 Jun 2001 2001AF51   OLF TPX
592466  22 20 30.36   +00 10 37.4 B  1380   21 Jun 2001 2001AF51   OLF TPX
592467  22 20 30.69   +00 10 47.5 B  1380   21 Jun 2001 2001AF51   OLF TPX
592468  22 20 30.02   +00 10 52.4 B  1380   21 Jun 2001 2001AF51   OLF TPX
592585  22 17 33.44   +00 14 36.8 I  1380   22 Jun 2001 2001AQ06          
592586  22 17 32.87   +00 14 34.3 I  1380   22 Jun 2001 2001AQ06          
592587  22 17 33.54   +00 14 29.3 I  1380   22 Jun 2001 2001AQ06          
592590  22 17 33.87   +00 14 39.4 I  1380   22 Jun 2001 2001AQ06          
592591  22 17 33.20   +00 14 44.2 I  1380   22 Jun 2001 2001AQ06          
592724  22 17 33.64   +00 14 41.0 I  1380   23 Jun 2001 2001AQ06          
592725  22 17 33.14   +00 14 38.6 I  1380   23 Jun 2001 2001AQ06          
592726  22 17 33.80   +00 14 33.6 I  1380   23 Jun 2001 2001AQ06          
592727  22 17 34.13   +00 14 43.6 I  1380   23 Jun 2001 2001AQ06          
592728  22 17 33.47   +00 14 48.5 I  1380   23 Jun 2001 2001AQ06          
592838  22 17 32.58   +00 14 33.1 I  1380   24 Jun 2001 2001AQ06          
592839  22 17 32.08   +00 14 30.6 I  1380   24 Jun 2001 2001AQ06          
592840  22 17 32.75   +00 14 25.6 I  1380   24 Jun 2001 2001AQ06          
592841  22 17 33.08   +00 14 35.6 I  1380   24 Jun 2001 2001AQ06          
592842  22 17 32.41   +00 14 40.6 I  1380   24 Jun 2001 2001AQ06          
592920  22 17 33.09   +00 14 35.4 I  1380   25 Jun 2001 2001AQ06          
592921  22 17 32.58   +00 14 33.8 I  1380   25 Jun 2001 2001AQ06          
592922  22 17 33.09   +00 14 36.4 I  1380   25 Jun 2001 2001AQ06          
592923  22 17 33.09   +00 14 36.3 I  1380   25 Jun 2001 2001AQ06          
592924  22 17 33.82   +00 14 25.4 I  1380   25 Jun 2001 2001AQ06          
594986  22 17 50.17   +00 10 25.0 I   138   17 Jul 2001 2001AQ07          
595069  22 17 32.39   +00 17 38.3 R   625   18 Jul 2001 2001AQ07          
595070  22 17 31.89   +00 17 35.8 R   625   18 Jul 2001 2001AQ07          
595071  22 17 32.56   +00 17 30.8 R   625   18 Jul 2001 2001AQ07          
595072  22 17 32.89   +00 17 40.7 R   625   18 Jul 2001 2001AQ07          
595073  22 17 32.22   +00 17 45.8 R   625   18 Jul 2001 2001AQ07          
595074  22 17 32.06   +00 17 43.3 R   625   18 Jul 2001 2001AQ07          
595075  22 17 32.72   +00 17 33.3 R   625   18 Jul 2001 2001AQ07          
595078  22 17 31.68   +00 17 34.5 R   600   18 Jul 2001 2001AQ07          
595079  22 17 31.17   +00 17 32.0 R   600   18 Jul 2001 2001AQ07          
595080  22 17 31.85   +00 17 27.1 R   600   18 Jul 2001 2001AQ07          
595081  22 17 32.18   +00 17 37.1 R   600   18 Jul 2001 2001AQ07          
595082  22 17 31.51   +00 17 42.0 R   600   18 Jul 2001 2001AQ07          
595083  22 17 31.34   +00 17 39.8 R   600   18 Jul 2001 2001AQ07          
595084  22 17 32.01   +00 17 29.4 R   600   18 Jul 2001 2001AQ07          
595085  22 17 32.28   +00 17 37.3 R   600   18 Jul 2001 2001AQ07          
595086  22 17 31.78   +00 17 35.1 R   600   18 Jul 2001 2001AQ07          
595087  22 17 32.44   +00 17 29.8 R   600   18 Jul 2001 2001AQ07          
595088  22 17 32.78   +00 17 39.9 R   600   18 Jul 2001 2001AQ07          
595089  22 17 32.11   +00 17 44.8 R   600   18 Jul 2001 2001AQ07          
595090  22 17 31.94   +00 17 42.4 R   600   18 Jul 2001 2001AQ07          
595091  22 17 32.61   +00 17 32.3 R   600   18 Jul 2001 2001AQ07          
595172  22 17 32.50   +00 17 34.8 R   600   19 Jul 2001 2001AQ07          
595173  22 17 32.00   +00 17 32.3 R   600   19 Jul 2001 2001AQ07          
595174  22 17 32.67   +00 17 27.3 R   600   19 Jul 2001 2001AQ07          
595175  22 17 33.00   +00 17 37.3 R   600   19 Jul 2001 2001AQ07          
595176  22 17 32.33   +00 17 42.3 R   600   19 Jul 2001 2001AQ07          
595177  22 17 32.17   +00 17 39.8 R   600   19 Jul 2001 2001AQ07          
595178  22 17 32.83   +00 17 29.9 R   600   19 Jul 2001 2001AQ07          
595290  22 17 32.34   +00 17 50.9 R   600   20 Jul 2001 2001AQ07          
595291  22 17 31.84   +00 17 48.2 R   600   20 Jul 2001 2001AQ07          
595294  22 17 32.51   +00 17 43.3 R   600   20 Jul 2001 2001AQ07          
595295  22 17 32.84   +00 17 53.4 R   600   20 Jul 2001 2001AQ07          
595296  22 17 32.17   +00 17 58.3 R   600   20 Jul 2001 2001AQ07          
595297  22 17 32.01   +00 17 55.8 R   600   20 Jul 2001 2001AQ07          
595298  22 17 32.68   +00 17 45.8 R   600   20 Jul 2001 2001AQ07          
595299  22 17 31.91   +00 18 02.3 R   600   20 Jul 2001 2001AQ07          
595300  22 17 31.41   +00 17 59.7 R   600   20 Jul 2001 2001AQ07          
595301  22 17 32.08   +00 17 54.8 R   600   20 Jul 2001 2001AQ07          
595302  22 17 32.41   +00 18 04.8 R   600   20 Jul 2001 2001AQ07          
595303  22 17 31.74   +00 18 09.8 R   600   20 Jul 2001 2001AQ07          
595304  22 17 31.58   +00 18 07.3 R   600   20 Jul 2001 2001AQ07          
595305  22 17 32.25   +00 17 57.4 R   600   20 Jul 2001 2001AQ07          
595306  22 17 31.81   +00 17 48.9 B   960   20 Jul 2001 2001AQ07          
595307  22 17 31.31   +00 17 46.4 B   960   20 Jul 2001 2001AQ07          
595308  22 17 31.97   +00 17 41.6 B   960   20 Jul 2001 2001AQ07          
595309  22 17 32.30   +00 17 51.5 B   960   20 Jul 2001 2001AQ07          
595310  22 17 31.64   +00 17 56.5 B   960   20 Jul 2001 2001AQ07          
595370  22 17 31.33   +00 17 39.8 B   960   21 Jul 2001 2001AQ07          
595371  22 17 30.83   +00 17 37.3 B   960   21 Jul 2001 2001AQ07          
595372  22 17 31.49   +00 17 32.3 B   960   21 Jul 2001 2001AQ07          
595373  22 17 31.82   +00 17 42.3 B   960   21 Jul 2001 2001AQ07          
595374  22 17 31.15   +00 17 47.3 B   960   21 Jul 2001 2001AQ07          
598318  22 17 32.12   +00 17 43.5 Z   625   15 Aug 2001 2001BQ02          
598319  22 17 31.63   +00 17 40.9 Z   625   15 Aug 2001 2001BQ02          
598320  22 17 32.29   +00 17 36.0 Z   625   15 Aug 2001 2001BQ02          
598321  22 17 32.62   +00 17 45.9 Z   625   15 Aug 2001 2001BQ02          
598322  22 17 31.96   +00 17 51.0 Z   625   15 Aug 2001 2001BQ02          
598323  22 17 31.79   +00 17 48.4 Z   625   15 Aug 2001 2001BQ02          
598324  22 17 32.45   +00 17 38.6 Z   625   15 Aug 2001 2001BQ02          
598326  22 17 32.02   +00 17 41.9 Z   625   15 Aug 2001 2001BQ02          
598327  22 17 31.52   +00 17 39.4 Z   625   15 Aug 2001 2001BQ02          
598328  22 17 32.19   +00 17 34.5 Z   625   15 Aug 2001 2001BQ02          
598329  22 17 32.53   +00 17 44.4 Z   625   15 Aug 2001 2001BQ02          
598330  22 17 31.85   +00 17 49.4 Z   121   15 Aug 2001 2001BQ02          
598332  22 17 31.86   +00 17 49.4 Z   625   15 Aug 2001 2001BQ02          
598333  22 17 31.69   +00 17 46.9 Z   625   15 Aug 2001 2001BQ02          
598334  22 17 32.35   +00 17 36.9 Z   625   15 Aug 2001 2001BQ02          
598525  22 17 32.57   +00 17 43.1 B   960   16 Aug 2001 2001BQ02          
598526  22 17 32.07   +00 17 40.6 B   960   16 Aug 2001 2001BQ02          
598527  22 17 32.74   +00 17 35.7 B   960   16 Aug 2001 2001BQ02          
598528  22 17 32.83   +00 17 54.3 B   960   16 Aug 2001 2001BQ02          
598530  22 17 32.16   +00 17 59.3 B   960   16 Aug 2001 2001BQ02          
598531  22 17 32.12   +00 17 38.7 V   900   16 Aug 2001 2001BQ02          
598532  22 17 31.62   +00 17 36.1 V   900   16 Aug 2001 2001BQ02          
598765  22 17 32.03   +00 17 50.1 Z   625   18 Aug 2001 2001BQ02          
598766  22 17 31.52   +00 17 47.6 Z   625   18 Aug 2001 2001BQ02          
598767  22 17 32.19   +00 17 42.7 Z   625   18 Aug 2001 2001BQ02          
598768  22 17 32.53   +00 17 52.6 Z   625   18 Aug 2001 2001BQ02          
598769  22 17 31.86   +00 17 57.6 Z   625   18 Aug 2001 2001BQ02          
598770  22 17 31.69   +00 17 55.2 Z   625   18 Aug 2001 2001BQ02          
598771  22 17 32.35   +00 17 45.1 Z   625   18 Aug 2001 2001BQ02          
598774  22 17 32.08   +00 18 08.3 Z   625   18 Aug 2001 2001BQ02          
598775  22 17 31.58   +00 18 05.8 Z   625   18 Aug 2001 2001BQ02          
598776  22 17 32.25   +00 18 00.8 Z   625   18 Aug 2001 2001BQ02          
598777  22 17 32.58   +00 18 10.9 Z   625   18 Aug 2001 2001BQ02          
598778  22 17 31.90   +00 18 15.8 Z   625   18 Aug 2001 2001BQ02          
598779  22 17 31.74   +00 18 13.3 Z   494   18 Aug 2001 2001BQ02          
598783  22 17 31.66   +00 17 59.0 Z   625   18 Aug 2001 2001BQ02          
598897  22 17 32.43   +00 17 53.6 Z   625   19 Aug 2001 2001BQ02          
598898  22 17 33.09   +00 17 43.4 Z   625   19 Aug 2001 2001BQ02          
598899  22 17 32.47   +00 18 03.2 Z   625   19 Aug 2001 2001BQ02          
598900  22 17 31.96   +00 18 00.7 Z   625   19 Aug 2001 2001BQ02          
598901  22 17 32.63   +00 17 55.9 Z   625   19 Aug 2001 2001BQ02          
598902  22 17 32.96   +00 18 05.8 Z   625   19 Aug 2001 2001BQ02          
598903  22 17 32.30   +00 18 10.7 Z   625   19 Aug 2001 2001BQ02          
598904  22 17 32.13   +00 18 08.2 Z   625   19 Aug 2001 2001BQ02          
598905  22 17 32.80   +00 17 58.3 Z   625   19 Aug 2001 2001BQ02          
598906  22 17 32.14   +00 18 12.2 Z   625   19 Aug 2001 2001BQ02          
598907  22 17 31.65   +00 18 09.7 Z   625   19 Aug 2001 2001BQ02          
598908  22 17 32.31   +00 18 04.7 Z   625   19 Aug 2001 2001BQ02          
598909  22 17 32.65   +00 18 14.7 Z   625   19 Aug 2001 2001BQ02          
598910  22 17 31.98   +00 18 19.5 Z   625   19 Aug 2001 2001BQ02          
598911  22 17 31.81   +00 18 17.1 Z   625   19 Aug 2001 2001BQ02          
598912  22 17 32.48   +00 18 07.0 Z   625   19 Aug 2001 2001BQ02          
598915  22 17 32.14   +00 18 12.2 B   960   19 Aug 2001 2001BQ02          
598916  22 17 31.65   +00 18 09.8 B   960   19 Aug 2001 2001BQ02          
598917  22 17 32.31   +00 18 04.8 B   960   19 Aug 2001 2001BQ02          
598918  22 17 32.65   +00 18 14.7 B   960   19 Aug 2001 2001BQ02          
598919  22 17 31.98   +00 18 19.6 B   960   19 Aug 2001 2001BQ02          
599032  22 17 32.05   +00 17 51.9 V   900   20 Aug 2001 2001BQ02          
599033  22 17 31.55   +00 17 49.5 V   900   20 Aug 2001 2001BQ02          
599034  22 17 32.22   +00 17 44.5 V   900   20 Aug 2001 2001BQ02          
599035  22 17 32.55   +00 17 54.4 V   900   20 Aug 2001 2001BQ02          
599036  22 17 31.88   +00 17 59.5 V   900   20 Aug 2001 2001BQ02          
599037  22 17 31.87   +00 17 50.2 V   900   20 Aug 2001 2001BQ02          
599038  22 17 31.37   +00 17 47.7 V   900   20 Aug 2001 2001BQ02          
599039  22 17 32.04   +00 17 42.6 V   900   20 Aug 2001 2001BQ02          
599040  22 17 32.37   +00 17 52.7 V   900   20 Aug 2001 2001BQ02          
599041  22 17 31.71   +00 17 57.6 V   900   20 Aug 2001 2001BQ02          
599042  22 17 31.87   +00 18 12.6 V   900   20 Aug 2001 2001BQ02          
599043  22 17 31.36   +00 18 10.1 V   900   20 Aug 2001 2001BQ02          
599044  22 17 32.03   +00 18 05.1 V   900   20 Aug 2001 2001BQ02          
599045  22 17 32.36   +00 18 15.0 V   900   20 Aug 2001 2001BQ02          
599046  22 17 31.69   +00 18 20.0 V   900   20 Aug 2001 2001BQ02          
599240  22 17 50.50   +00 24 34.0 V  1200   21 Aug 2001 2001BQ02          
599241  22 17 50.76   +00 24 24.0 V  1200   21 Aug 2001 2001BQ02          
599242  22 17 51.16   +00 24 29.9 V  1200   21 Aug 2001 2001BQ02          
599243  22 15 03.25   +00 51 26.1 V  1200   21 Aug 2001 2001BQ02          
599244  22 15 03.52   +00 51 16.0 V  1200   21 Aug 2001 2001BQ02          
599245  22 15 03.92   +00 51 22.0 V   151   21 Aug 2001 2001BQ02          
599247  22 15 03.92   +00 51 22.1 V  1200   21 Aug 2001 2001BQ02          
599248  22 15 02.23   +00 24 38.9 V  1200   21 Aug 2001 2001BQ02          
599249  22 15 02.50   +00 24 29.0 V  1200   21 Aug 2001 2001BQ02          
599250  22 15 03.54   +00 24 54.8 V  1200   21 Aug 2001 2001BQ02          
599251  22 16 25.42   -00 20 49.6 V  1200   21 Aug 2001 2001BQ02          
599252  22 16 25.69   -00 20 59.7 V  1200   21 Aug 2001 2001BQ02          
599255  22 16 26.09   -00 20 53.6 V  1200   21 Aug 2001 2001BQ02          
599484  22 17 51.22   -00 02 01.0 V  1200   22 Aug 2001 2001BQ02          
599485  22 17 51.49   -00 02 11.0 V  1200   22 Aug 2001 2001BQ02          
599486  22 17 51.89   -00 02 05.1 V  1200   22 Aug 2001 2001BQ02          
599487  22 17 51.52   +00 51 19.0 V  1200   22 Aug 2001 2001BQ02          
599488  22 17 51.80   +00 51 09.0 V  1200   22 Aug 2001 2001BQ02          
599489  22 17 52.19   +00 51 15.1 V  1200   22 Aug 2001 2001BQ02          
602772  22 17 50.84   +00 24 27.1 V  1200   12 Sep 2001 2001BQ03          
602773  22 17 51.10   +00 24 17.1 V  1200   12 Sep 2001 2001BQ03          
602774  22 17 51.50   +00 24 23.1 V  1200   12 Sep 2001 2001BQ03          
603105  22 17 50.71   +00 10 44.9 V   720   14 Sep 2001 2001BF11   OLF TPX
604053  22 17 50.59   +00 10 26.3 R   540   22 Sep 2001 2001BF33   OLF    
604054  22 17 51.05   +00 10 24.3 R   540   22 Sep 2001 2001BF33   OLF    
604055  22 20 30.44   +00 38 03.5 R   540   22 Sep 2001 2001BF33   OLF    
604056  22 20 30.91   +00 38 01.5 R   540   22 Sep 2001 2001BF33   OLF    
604057  22 20 30.71   +00 10 57.5 R   540   22 Sep 2001 2001BF33   OLF    
604058  22 20 31.18   +00 10 55.5 R   540   22 Sep 2001 2001BF33   OLF    
606466  22 17 50.00   +00 10 14.8 R   540   10 Oct 2001 2001BF33   OLF    
606467  22 17 49.67   +00 10 23.7 R   540   10 Oct 2001 2001BF33   OLF    
606468  22 20 29.98   +00 37 56.4 R   540   10 Oct 2001 2001BF33   OLF    
606469  22 20 29.64   +00 38 05.5 R   540   10 Oct 2001 2001BF33   OLF    
606470  22 20 30.27   +00 10 52.8 R   540   10 Oct 2001 2001BF33   OLF    
606471  22 20 29.93   +00 11 01.7 R   540   10 Oct 2001 2001BF33   OLF    
607018  22 17 50.70   +00 10 25.5 R   540   14 Oct 2001 2001BF33   OLF    
607019  22 17 50.89   +00 10 23.6 R   540   14 Oct 2001 2001BF33   OLF    
607020  22 20 30.54   +00 38 01.2 R   540   14 Oct 2001 2001BF33   OLF    
607021  22 20 30.74   +00 37 59.2 R   540   14 Oct 2001 2001BF33   OLF    
607022  22 20 30.84   +00 11 06.0 R   540   14 Oct 2001 2001BF33   OLF    
607023  22 20 31.05   +00 11 04.3 R   540   14 Oct 2001 2001BF33   OLF    
612780  22 20 30.63   +00 38 08.9 R   540   12 Nov 2001 2001BF11   OLF TPX
612781  22 20 31.37   +00 37 57.9 R   540   12 Nov 2001 2001BF11   OLF TPX
612782  22 20 30.57   +00 11 08.2 R   540   12 Nov 2001 2001BF11   OLF TPX
612783  22 20 31.30   +00 10 57.2 R   540   12 Nov 2001 2001BF11   OLF TPX
612784  22 17 50.25   +00 11 00.3 R   540   12 Nov 2001 2001BF11   OLF TPX
612785  22 17 50.99   +00 10 49.3 R   540   12 Nov 2001 2001BF11   OLF TPX
641107  22 17 50.10   +00 24 28.0 V  1200   08 Jun 2002 2002AQ06          
641108  22 17 50.37   +00 24 17.9 V  1200   08 Jun 2002 2002AQ06          
641109  22 17 50.77   +00 24 24.0 V  1200   08 Jun 2002 2002AQ06          
641452  22 16 26.21   -00 20 58.0 V  1200   11 Jun 2002 2002AQ06          
641453  22 16 26.48   -00 21 08.0 V  1200   11 Jun 2002 2002AQ06          
641454  22 16 26.88   -00 21 02.2 V  1200   11 Jun 2002 2002AQ06          
642081  22 17 50.44   +00 24 36.3 V  1200   13 Jun 2002 2002AQ06          
642082  22 17 50.71   +00 24 26.4 V  1200   13 Jun 2002 2002AQ06          
642083  22 17 51.11   +00 24 32.3 V  1200   13 Jun 2002 2002AQ06          
642449  22 15 04.28   +00 51 05.1 V  1200   15 Jun 2002 2002AQ06          
642450  22 15 04.54   +00 50 55.1 V  1200   15 Jun 2002 2002AQ06          
642451  22 15 04.95   +00 51 01.0 V  1200   15 Jun 2002 2002AQ06          
642452  22 17 51.40   +00 51 07.3 V  1200   15 Jun 2002 2002AQ06          
642453  22 17 51.66   +00 50 57.3 V  1200   15 Jun 2002 2002AQ06          
642454  22 17 52.06   +00 51 03.2 V  1200   15 Jun 2002 2002AQ06          
642603  22 15 03.36   +00 24 48.7 V  1200   16 Jun 2002 2002AQ06          
642604  22 15 03.62   +00 24 38.8 V  1200   16 Jun 2002 2002AQ06          
642605  22 15 04.02   +00 24 44.8 V  1200   16 Jun 2002 2002AQ06